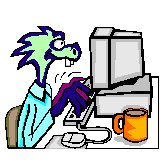 Wood Destroying Insect Reports
Wood Destroying Insect Reports (WDIR) are used by inspection and pest management companies to officially record the results of a WDIR inspection, performed prior to the purchase of real estate property. The purpose is to determine if there are any wood destroying insects causing, or potentially causing, damage to the property. These wood destroying insects are termites, carpenter ants, wood boring beetles, and carpenter bees. More in depth explanations about these insects can be found in Pestdude's page on WOOD DESTROYING INSECTS .

The various sections of the Wood Destroying Insect Report approved by the National Pest Management Association are as follows. However, there are some states that require a different report with slightly different information. With these reports, make sure you ask for clarification from the pest control company that provides such report. HIRING A PEST MANAGEMENT PROFESSIONAL for more information on that.
---
Wood Destroying Insect Reports - Section I - General Information
This section of the report is divided into the following parts:
Inspection Company, Address, & Phone


This includes the official name and address of the pest management firm and the phone number, usually not the toll free number.

Company's Business License Number


This is the state issued pesticide business license number. See STATE AGENCIES to determine what businesses are registered with the individual states and their license requirements and procedures.

FHA/VA Case No. (if any)


This number pertains to ongoing FHA or VA type mortgages or loans

Property Address


The property address is the identifying location of the inspected property. The name of the person authorizing the inspection does not appear anywhere on the report because the report deals with the property only.

Inspector's Name


This is the printed name of the individual performing the inspection

Structure(s) Inspected


This further describes the property that is being inspected. This usually includes one of the following statements:


Single family house
House/Garage
2-Family House
Multi-Family House
Commercial Facility
RETURN TO TOP
---
Wood Destroying Insect Reports - Section II - Inspection Findings
This section describes any evidence of wood destroying insects found during the inspection. It is indicative of the conditions of the structure at the time of the inspection ONLY and is not to be understood that an agreement, warranty, or guarantee exists between the inspection company and the purchaser of this report that there exists no hidden damage that cannot be located during a normal inspection. Any such warranty or guarantee would be separate and noted in Section IV. This section of the report is divided into the following parts:

PREVIOUS TREATMENT : Evidence of previous treatment is also noted on the report to determine if the evidence of infestation can be associated with a treatment. Some of the usual evidence of treatments include:

Drill marks in concrete or hollow blocks indicating termite treatment.
White powder around pipe voids indicating possible carpenter ant treatment.
Drill marks in wood beams in basement or crawl space indicating a wood injection type of treatment.
The company that performed the treatment should be contacted with respect to renewing the warranty. The inspection company cannot make a determination based upon another pest management company's work.


RETURN TO TOP
---
Wood Destroying Insect Reports - Section III - Treatment
If the inspection company, or another company, was or is scheduled to perform the required treatment for the elimination of the wood destroying insect infestation, that treatment should be noted on this section of the report.


RETURN TO TOP
---
Wood Destroying Insect Reports - Section IV - Attachments
Attachments that are vital to the report are listed here and become part of the report. Some examples of these might include: >br />
Graphs indicating infestations or possible infestations
A checklist for conducive conditions
Warranties or service agreements with the inspection company
Other warranties or service agreements
RETURN TO TOP
---
Wood Destroying Insect Reports - Section V - Obstructions & Inaccessible Areas
The inspection can only inspect areas that are accessible to the inspector. Obstructions and inaccessible areas prevent the inspector from performing a thorough inspection and may lead to him / her missing evidence of an inspection. These obstructions include:
fixed ceilings
suspended ceilings
fixed wall coverings
floor covering
insulation
cabinets and shelving
stored items

furnishings
appliances
no access or entry
limited access
only visual access
no access beneath
cluttered condition

standing water
dense vegetation
exterior coverings
window well coverings
wood pile
snow
unsafe conditions
These obstructions and inaccessible areas are noted as to where in the structure they occur, such as in the basement, crawl space, main level, attic, garage, exterior, porch, addition, or other sites.


RETURN TO TOP
---
Wood Destroying Insect Reports - Section VI - Additional Comments
This space is for the inspector to explain addition comments. Some of these may include quoted prices for the treatment of wood destroying insects found, conducive conditions, etc.


RETURN TO TOP
---
Wood Destroying Insect Reports - Section VII - Inspector's Signature
This is where the inspector signs the report. He / she will also note their Certification or Registration Number. This is the number, given by the state-governing agency, to the individual inspector indicating their certification. Not all reports require this number, only those for state or federal financing such as FHA or VA loans. Many mortgage firms also require that this certification exist. Finally, the date of the inspection is noted in this section. This date can be very important because, depending on the lending institution, most inspections are only good for 30, 60, or 90 days; based on the date in this section.


RETURN TO TOP
---
Wood Destroying Insect Reports - Section VIII - Statement of Buyer & Seller
This signature section demonstrates that the buyer and the seller both read the report and understand the findings.


RETURN TO TOP
---
Wood Destroying Insect Reports - Section IX - Important Consumer Information Regarding the Scope and Limitations of the Inspection
This section, found on the back of the report, explains the limitations of this report. What is found in this section is copied below:

Attention Homebuyer: The WDI inspection firm is not responsible to repair and damage disclosed by this inspection, including without limitation, any wood destroying insect infestation and/or damage which exists in areas or in wood which ere not accessible for visual inspection as of the date of the inspection, except as provided by separate contract. Also, wood destroying insect infestation and/or damage may exist in concealed or inaccessible areas. This inspection firm cannot guarantee that any wood destroying insect infestation and/or damage disclosed by visual inspection of the premises, as noted, represents all of the wood destroying insect infestation and/or damage which may exist as of the date of the inspection. Damage and any corrective action should be evaluated by the buyer and/or their qualified building expert to determine the extent of damage and need for repair.

This report is not a guarantee or warranty as to the absence of wood destroying insects nor is it a report as to structural integrity.

1. About the Inspection: The inspection was conducted in the readily accessible area of the identified inspected structure(s). If visible evidence of the infestation by wood destroying insects is reported, it should be understood that some degree of damage, including hidden damage, might be present.

2. Scope of the Inspection: A wood destroying insect inspector is trained to look for visible signs of wood destroying insect infestation. A representative of this inspection firm has conducted an inspection, which may include probing and/or sounding of the unobstructed and accessible areas of the subject structure(s) to determine the presence or absence of visible evidence from wood destroying insects. For the purposes of this inspection, wood destroying insects include termites, carpenter ants, carpenter bees, and reinfesting wood boring beetles.

3. What the Inspection Covered and Validation: The inspection covered the readily accessible areas of the structures inspected, including attics and crawlspaces which permitted entry during inspection. This inspection did not include areas, which were obstructed or inaccessible at the time of this inspection. All structures, which were inspected, are specifically noted. Neither the inspector nor the company for which the inspector is acting have had, presently have, or contemplate having any ownership in the property. This report shall be considered invalid for purposes of securing a mortgage and/or settlement of property transfer if not used within ninety (90) days from the inspection date.

4. Common Obstructions and/or Inaccessible Areas: No inspection was made in areas which required the breaking apart or into, dismantling, removal of any object including, but not limited to: moldings, floor coverings, wall coverings, siding, ceilings, insulation, floors, furniture, appliances, and/or personal possessions, nor were areas inspected which were obstructed and/or inaccessible for physical access. Your inspector may write out inaccessible areas or use the key in section V. If any area, which has been reported as inaccessible, is made accessible, the inspection company may be contacted for another inspection. An additional fee will apply.

5. Consumer Maintenance Advisory regarding Integrated Pest Management for Prevention of Wood Destroying Insects: Information regarding prevention of wood destroying insect infestation is helpful to any property owner interested in protecting the structure from infestation. Any structure can be attacked by wood destroying insects. Periodic maintenance should include measures to minimize possibilities of infestation in and around a structure. Factors which may lead to infestation from wood destroying insect include foam insulation at foundation, earth-wood contact, faulty grade, firewood against structure, insufficient ventilation, moisture, wood debris in crawlspace, wood mulch, tree branches touching structures, landscape timbers, and wood rot. Should these or other such conditions exist, corrective measures should be taken by the owner in order to reduce the chances of infestations by wood destroying insects, and the need for treatment.

RETURN TO TOP
---
Image gallery of Wood Destroying Insects and their damage If you have any other questions, just ask Pestdude .