SCOFIELD FAMILY PAGE
Ginger (our dog)
BORN: Estimate - January 1993

BIRTHPLACE: Virgina?

In April, 1993, as we were hiking in the Shenandoah National Forest in western Virginia, we were approached by a puppy. She was obviously lost and hungry. We informed the park rangers, as we left the park, that we found her and have her. We brought her back home with us, dewormed her, fed her, got her shots, and spayed her. She is still our baby, despite the proliferation of grey hair as she gets older.

We were able, to the best of our ability, to identify her breed as a Visla.

Click on her picture and check out some more recent pics of her.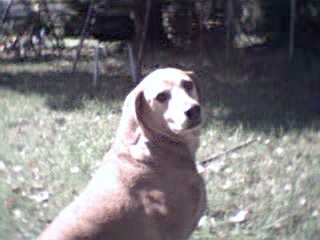 ---
Contact Matt